Our Academic Style, Part One.
It's probably not necessary to clarify how much The Attic on Eighth adores autumn. We've written odes to it, cooked meals inspired by its colors, planned entire lists of things to watch and read surrounding it... We embrace it as early as possible in the calendar year (and sometimes even sooner) and live through our many mood boards dedicated to it. With all of this and more, autumn inadvertently brings the many influences and ideals (or trials and tribulations) of academia.
As children we all spent our days counting down the summer until that first crisp day of classes, pencils sharpened, fresh notebooks at the ready. As adults we've bonded over our university studies, favorite topics, and countless thematic reads. Academia, of course, revolves around the rigorous lifestyle of educational pursuits, the competitive nature that goes with it, and in some cases anxiety and unhappiness caused by the sheer stress of it. We don't always love it, and we all know it can look much better from a distance. It does, however, come with its benefits — aside from the implied improvement of our intellect and the ability to learn so much more than necessary about the subjects we love, it brings us community, purpose, and the ever so appealing sense of style.
After all, with academics, of course, comes the inevitable dressing. What do we wear to class? What do we wear to study sessions, late nights at the coffee shop, library trips with friends, group mates, potential dates? And at the end of it, with the degrees and texts and experience, how do we take it with us into the world? Style, like learning, is a lifelong pursuit. As we shake out our plaid scarves and beloved monogrammed jumpers, members of The Attic share their takes on academic fashion...
Jessica Armstrong
In the range of my secondary schooling, I spent a solid seven years thinking that the scope of academic fashion was limited to polyester, too-big blazers, skirts a strict 6 inches below the knee, and sensible shoes with velcro - because buckles were too much of a safety hazard.
However, it was the period before I started university that coincided with my discovery of the blogging world. It also was there that my view that academic fashion could only be stuffy and strict was overturned. As I scrolled through post after post, I saw polyester being replaced (out of school hours, obviously) with soft jumpers, loafers, and gloriously old-fashioned hues. I soon found that this was a wardrobe I felt like myself in, to the extent that I asked for and received a beautiful oxblood Cambridge Satchel on my eighteenth birthday.
Yet, if I thought I had met style in all its forms then, enrolling at St Andrews opened my eyes to fashion on a scale I had never witnessed before. Given the fact that undergraduates have a special red gown to wear features as a traditional rite of passage (and Wills allegedly fell for Kate when she was wearing that dress at a university fashion show), I maybe shouldn't have been as surprised. Although I remember begging my Mum to buy me a tweed blazer and Hunter boots at the beginning of my first year, I quickly grew out of trying to look like everyone else, and eased into my familiar wardrobe of assorted breton striped tops, cardigans, and black skinny jeans once again. An intense love for corduroy pinafores has persisted, and I'm forever attempting to make them look more 'work appropriate' and less '6-year-old on a non-uniform day'.
In the months that are too hot to wear long sleeves, I find myself pining for chillier air and an excuse to wear ankle boots. Any seasonal transition I can bring myself to make in the warmer months is often described as 'summer - but make it aesthetic': more often than not meaning cardigans with marginally shorter sleeves and lighter fabric, and cropped denim trousers. While September was once associated with stifling shirt collars and ties I struggled to knot, it has become a landmark month for the return of my usual wardrobe after a difficult hiatus.
While I wouldn't consider myself stylish, I would (and so would my Mum, for that matter) consider my aesthetic as 'library-ish'. You can probably imagine my excitement as being mistaken for a bookseller in Barnes and Noble when in Florida on a holiday, then.
As I have started full-time work, our dress code is smart-casual, and so I have been curating a wardrobe featuring old favourites alongside new (and sometimes reluctant) additions. While I am becoming a convert to a pencil skirt, black trousers which aren't jeans still seem fundamentally wrong to me.
I now work at a university and am often mistaken as a postgraduate student, which I'm sure has a lot to do with the fact that I dress like one. If I've learned anything about fashion in the many years I've spent in classrooms and lecture halls, it would be that it seems impossible to go wrong with a black turtleneck (regardless of the season), and a William Morris print never goes amiss, either.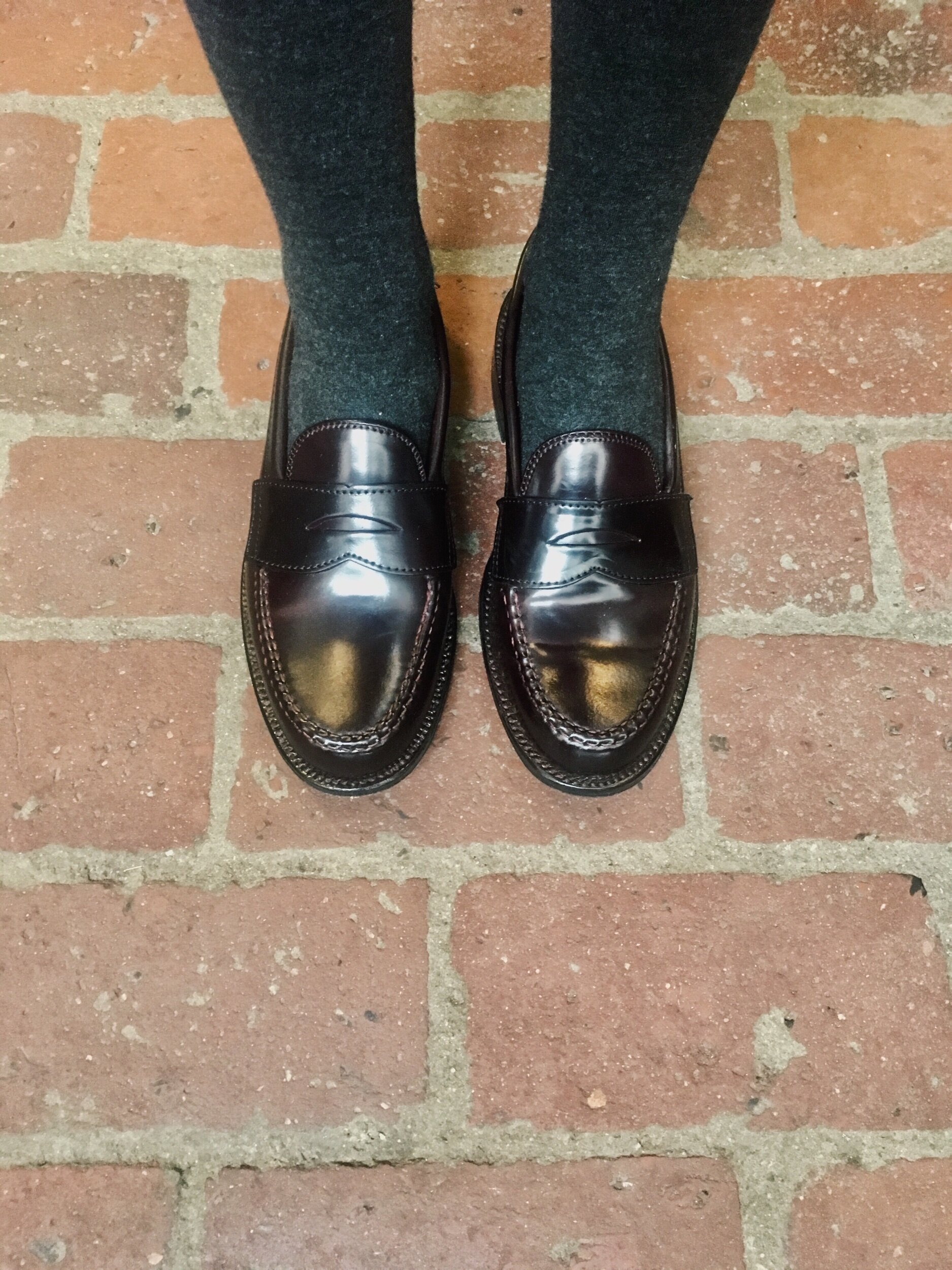 "Many girls rallied against the uniforms at every opportunity, but I appreciated the ease and convenience of only having so many options."
Like Jessica, my high school years were also uniformed. The dress code was strictly enforced, but we at least had a range of colors from which to choose for our cardigans, polos, and knees socks or stockings. Kilts were compulsory, otherwise khakis were allowed when below-freezing temperatures turned our early nineteenth-century school into an ice box. Having graduated in 2010, Ugg boots, hats, and sweatpants would often be seen in the halls before first period, but they all came off once the bell rang. Loafers or canvas sneakers were permitted, no heels over a half inch, boots, or athletic shoes allowed. Girls who had a wild weekend and dyed even a strip of their hair an "unnatural" color would be sent home until the issue was corrected.
This rarely occurred, however it wasn't uncommon for girls whose skirt hemlines did not fall below their fingertips with their arms at rest to be seen wearing the Skirt of Shame. This ancient relic must have been from the 1940s, a heinous 100% wool skirt that had maybe last been dry cleaned in the 1980s, reaching down to mid-calf in the most unflattering way no matter who was wearing it. The Skirt of Shame also held dominion over "dress-down days," when yours truly was once forced to wear it after my final growth spurt turned the previous summer's chino shorts into something more akin to hotpants. Mild humiliation aside, it was always exciting to see what students wore on these days, how their personal styles emerged. Many girls rallied against the uniforms at every opportunity, but I appreciated the ease and convenience of only having so many options.
Unlike other prep schools that required their students to only wear white clothing for commencement, mine took it the extra mile. Not only were flower crowns required, but the style of white gown had to be voted upon by the student body. Yes, gown. Each student was also expected to wear white shoes, and girls who weren't used to wearing heels would have to try not to trip over their hems on the big day. The gown my graduating class selected was not my first choice but of course everyone looked beautiful, and no one ate it on their way to the podium. The collective effect prompted my uncle to exclaim, "You all looked like Vestal Virgins about to be sacrificed to the Minotaur!" I wasn't about to mention that many of us no longer quite fit that description.
Although no one escaped the sartorial battleground that was the early 2000s, Mad Men became my salvation when it premiered in 2007 and carried me past my undergraduate career with its finale in 2015. By that time, I had built a sizable wardrobe of classic-style and vintage clothing.
It took me a while to calm down from uniformed life, as low rise had put me off of jeans, and tee shirts never quite worked for me. I didn't stray far from the navy, light pink, and grey of my uniforms, and only during grad school did I branch out into forest green. At that time I was also working as a teaching assistant, so somewhat adult attire was expected. With my climate being mostly damp and cold for three quarters of the year, I ended up looking more like Clarisse Starling than Betty Draper. Being a student as well, I did my best to achieve warmth and comfort, adopting the wool on tweed on cashmere look that endured throughout my postgraduate career in the art world.
Working in menswear now, I've managed to make my look distinctly feminine while adhering to many of the trade's guiding principles. Never one to show much skin, I do make sure that my clothes are tailored well to display some kind of body shape, and the position does give me the opportunity to blur gender lines, with often no one raising an eyebrow. Although I'm usually wearing brogues or loafers, my nails are rarely unpainted and I've started to wear lipstick more often. This is by no means a requirement, but looking polished gives me more confidence in a field wherein many don't expect me to know what I'm talking about. Surrounded by bolts of wool and anticipating the arrival of some excellent Shetland sweaters as I type, it seems the desk apple doesn't fall far from the academic tree.
I never wore a required uniform in school, but I remember being enthralled by them, in all honesty for the ease they seemed to present at getting dressed every day. Anything to sleep an extra five minutes in the morning. My church youth group did have one, and as plain as it was, I enjoyed the stark pleated skirt as a palette cleanser from my usually more flowery style choices.
It was high school when I began channeling academia full time, thanks to a particularly charming group of boys I became friendly with. To say we gathered in classrooms at lunch, sharing books or watching pretentious films and discussing philosophy is probably all you need to know but it was also the elements of their style (which was, at this time, both refreshing and uncommon in my sunny Southern California town) that appealed to me: oxford shoes, dark rimmed glasses, blazers with elbow patches. I'm sure they passed around a copy of Dead Poets Society before I ever stumbled across them and was welcomed into their club.
Leaving them for university, I carried the style as both a way to hold on but also personalize the new style uniform I had stumbled upon; burgeoning fashion designer goes to art school. On any given day my look consisted of silk dresses, men's oxford shirts, thick knit jumpers, brown leather accessories, lots of black with/or loud floral prints, tweed overcoats, and four inch heels that may or may not have watercolor spilled on them. I didn't carry traditional school bags so much as a minimal weekender and vintage handbags overflowing with art and sewing supplies.
While I left academia many years ago, I do miss it a lot of the time, as I was fortunate to experience it in various ways that still feel merely in progress. Thinking of autumn and seeing batches of new students wander around my university town, I ache for the days I have opportunity to throw on a blazer and pull from an ever growing pile of Oxford shoes and penny loafers, even if it is purely to run to the convenience store and pretend like I'm not going to pop in to the bookshop on my way home (I always do).
Post graduation, the aforementioned elements remained in my personal style, although with certainly more reasonably heeled shoes and only fewer art supplies spilling out of my bag. While my most academia-related post-grad experience to date was probably freelancing at my alma mater's art museum (a period during which I definitely lived in prim yet artsy outfits and loafers aplenty), the height of my traditionally academic style was probably the two years I spent at J.Crew, a company with an image so centered on uniform dressing we dedicated an entire training session learning how to achieve it. With an employee discount and a conveniently enforced dress code, my wardrobe doubled in its collection of oxford button downs, box-pleated skirts, and stylish flats. Adopting a cool-toned color scheme for the first time in my life, navy, sky blue, and khaki finally entered my wardrobe, and remained for some time.
But the truth is my heart is a warm-toned creature; it didn't take long to return to my sea of velvety black and caramels, deep reds and golds when I left, and the cozier, more relaxed academic feelings those inspired. Planning outfits at this time of year excites me just as much as required reading lists or freshly printed syllabi, and as my style evolves I have no doubt it will continue to carry aspects of academia with it, from those charming school boys all the way to the more present louche liberal arts professor, though never too strictly. I am a fashion student at heart above all, and with that will always come the touch of sprezzatura.
A self described student for life, Jessica Armstrong left one university for another, and now works at the Research and Enterprise directorate at Queen's University Belfast. When she isn't trying to reduce her caffeine intake or levels of sarcasm, she can probably be found trying to get through as many Victorian tomes as possible.
Zoë G. Burnett is a writer, menswear stylist, and film enthusiast based in Boston, Massachusetts. A born and raised New England Yankee, she feels equally at home in the 7th arrondissement. She is currently editing her first novel. You can read her personal blog here.
Raquel Reyes is Creative Director at The Attic on Eighth. When she isn't promptly texting you back, she enjoys styling photo shoots, dramatic hair accessories, and old fashioned cocktails.